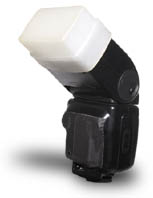 Omni-Bounce:
The Omni-Bounce creates a Diffused Bare Bulb Effect. Giving even coverage across the entire frame, with lenses from 15mm to 200mm in the 35mm format. (And equal in other formats as well.) The Omni-Bounce is easy to use and goes onto and off of your flash in seconds with custom fitting, except UNI, and No Velcro. Designed for years of service with out the bulk of some other Diffusers, it is small enough to fit easily into your gadget bag or pocket.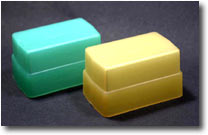 Green and Gold Omni:


The Green and Gold Omni Units are used for special lighting situations.




The Green for Fluorescent Lighting in conjunction with an FLD or 30M filter on the Camera Lens.
The Gold for Warming Skin tones and for overall warming in flash filled available light shots.
They are mounted the same as the regular Omni for your Flash Unit.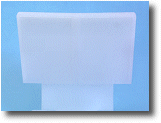 Two-Way Bounce:
The Two-Way Bounce is a pocket size Bounce Card that gives you the advantage of bouncing without the need of a ceiling. The unit is small enough to fit into a shirt pocket and yet delivers a big punch of light. The package also includes a mini Panel that provides a kicker light for fill lighting use. All units, except UNI, are custom mounted with adapter provided and require No Velcro. Adapters can be reversed for shoot thru panel lighting as well.

Uni Mount:
The UNI Mount is a bracket that attaches to the back of the flash head with 3m Foam Core tape and is as easy to use as custom mounts after being installed. Can be applied to units using an Omni-Bounce below that Omni mounting position.